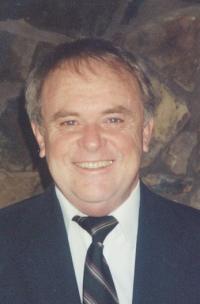 Mr. Burrell E. "Duke" Little Jr., age 75 of Anna, beloved husband, father and brother, died at 7:10 a.m. Sunday, September 29, 2013 at his home in Anna. He was born March 12, 1938 in Cairo, the son of Burrell E. Sr and Marie Ulrich Little. He married his best friend and life partner, Rachel Crews on June 19, 1965 in Anna.
Duke is survived by his wife, Rachel Little of Anna; children, Tracy (Brad) Nall of Coppell, Texas, Tara (Jay) Heldt of Princeton, Indiana, Jason (Jennifer) Little of Port Orchard, Washington, and Jerred (Kim) Little of Anna; six grandchildren, Katie and Jacob Nall, Emma and Elijah Heldt, Alexandria Little and Ayden Zylstra-Little; sister, Patricia (Hobert) Ellis; many other relatives and friends. He was preceded in death by his parents.
Duke graduated as Valedictorian from Grand Chain High School in 1956 and held the record for most points scored during a basketball game. He proudly served his country in the United States Army from 1958 to 1961.
He received his Bachelors Degree in Psychology, Masters Degree in Rehab Administration and completed post graduate work in Health Education at Southern Illinois University in Carbondale.
Beginning in 1964, Duke held various positions with the Illinois Department of Mental Health and at the time of his retirement in January of 1992 he was the administrator of the Psychiatric Division at Choate Mental Health Center. After retirement, Duke and Rachel enjoyed many years of travel, visiting over fifty countries as well as most of the United States.
He enjoyed gardening, fishing and spending time with his children and grandchildren. The family would like to extend a special thank you to Dr. Scott Anderson, Physician; Ashley Daniel, T.I.P. Hospice Nurse for all their kindness and support.
Visitation for Mr. Burrell E. "Duke" Little Jr. will be from 5 to 7 p.m. Tuesday, October 1, 2013 at the Rendleman & Hileman Funeral Home in Anna. Memorial contributions may be made to the American Cancer Society or T.I.P. Hospice. Envelopes will be available at the Rendleman & Hileman Funeral Home in Anna.
Service details, Social networking, Memorial Guestbook and Slideshow are available here.