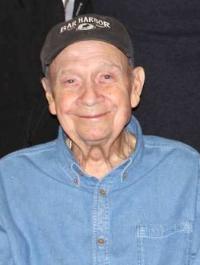 Thomas (Tub ) Coffman grew up in Anna, Illinois. Tub was an only child to Charles and Helen Coffman. In his early years he worked as a police officer, at PN Hirsh & Co, and Co-Manager of Gebharts Auto in Anna. He spent 30 years until retirement working for IL Department of Corrections as an accountant. He was also a lifetime member of the Anna Moose Lodge.
In 1953 he married Ellen Louise Smith of Anna and together they shared 66 years. His daughters Diana Woolridge Perry, Jean Ellen Boyd (Dwain Cocke), and Stacey Brown Davis were his pride and joy until the very end. His daughters were everything to him. From them, he is remembered by grandsons Shane Boyd, Robbie Woolridge, and Brandon (Michelle) Brown. His granddaughters Stefanie (Joel) Diers, Mariah Davis, and Sophia Davis share the loss. Tub is celebrated by his five great-grandchildren, Jackson Boyd, Aliyah Diers, Mason Diers, Coraline Brown and Holden Woolridge. He is remembered by his cousins, Albert Gene Coffman, Glenda Zaharias, and Mary McWhorter. He is preceded in death by his parents, Charles and Helen Coffman.
Tub was an avid sports fan when it came to his family. He traveled all over the country to watch football, basketball, volleyball, and baseball. There was rarely a distance too great for him cross when it came to supporting his children and grandchildren in sports.
One of his greatest pleasures was walking. No matter the weather or time of day, Tub walked the streets of Carbondale or Anna. He found great joy in the people he met along his journeys. He loved to share stories and time with friends and strangers as he logged countless miles.
Loving animals was a major part of his life. His dogs were treated like royalty. There was no sacrifice too great for him to provide love and support for his pets. He is remembered by his pug Eli.
Funeral services will be at 1:00 p.m. Wednesday, February 5, 2020 at the Rendleman & Hileman Funeral Home in Anna with Father Robert Flannery officiating. Entombment will be at the Anna Cemetery. Friends may call from 11:00 a.m. and until the service hour at 1:00 p.m. on Wednesday, February 5, 2020 at the Rendleman & Hileman Funeral Home in Anna. In lieu of flowers, memorials may be made to P.A.W.S. in Anna or Hospice of Southern Illinois. Envelopes will be available at the funeral home.
The family will host a Celebration of Life at Lou's Room in Anna immediately following the committal service.