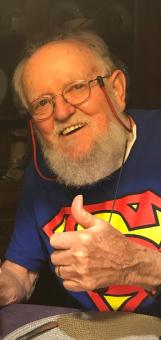 James R. "Ronnie/J.R." Goddard, age 79 of Tucson, Arizona, died Saturday July 4th, 2020 at Tucson Medical Center. He was born July 21, 1940 in Johnson County, the son of Don and Pauline Goddard. He married Lela Jen Harris on February 14, 2006 at a small church in Wyoming.
He began his work as a dairy and grain farmer in Dongola and then moved to Rock Springs, Wyoming where he worked as a heavy equipment operator for Frank's Construction. He ultimately decided to buy and operate Frank's Construction and made a success of his business. He retired in 2014 and he and Lela moved to Tucson, Arizona.
He was a lifetime member of the Goreville Masonic Saline Lodge no. 339 and was a master trap shooter, winning many awards. He enjoyed duck hunting, fishing, playing guitar, traveling, shooting craps in Vegas, was a self-proclaimed Alumni of Arizona Wild Cat sports, and most of all he enjoyed spending time with his family.
James is survived by three children, Matt Goddard and spouse Kim Goddard, Mitch Goddard and partner Curtis Hasse and Mitzie Goddard Roberts and spouse Jim Roberts; seven grandchildren, Lindsey Goddard Toler and spouse Jared Toler, Wyatt Goddard and fiancé Velinka Markovic, Dalton Goddard, Braden Benns, Riley Benns, Jaxon Goddard-Westland and Willa Goddard-Westland; one great grandchild Loni Ann Toler; mother of his children and friend Bonnie Casey Goddard and many other nieces and nephews, friends and relatives including Bobby McCall who was like a brother to him.
He was loved by all and had never met a stranger. He lived by his favorite motto, "Work hard when you work and play hard when you play."
He was preceded in death by his parents, Don and Pauline Goddard and his brother Jack Goddard.
Graveside Funeral services will be at 10:30 a.m. Saturday, July 18, 2020 in the Anna City Cemetery in Anna. Interment will be in the Anna City Cemetery in Anna. Friends may call from 9:30 a.m. until the service hour at the cemetery. Everyone attending will be required to wear a face covering and observe social distancing guidelines. Family and Friends are invited to the home of Matt and Kim Goddard immediately following the service.