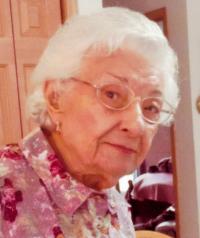 Helen Mae Dodd, age 96 of Anna, died Sunday, July 12, 2020 at her home. She was born January 8, 1924 in Jonesboro, the daughter of Oscar Allen and Mabel Augusta (Goodman) Hartline. She married Francis L. Dodd on December 26, 1947 in Piggott, AR.
Helen is survived by her loving husband of seventy-two years, Francis L. Dodd of Anna; daughter, Donna (Mark) Silvia of Texas; two grandchildren, Jeremy Swartzell and Donna Michelle Goodman; three great-grandchildren, Sydney Swartzell, Charlotte Swartzell and Morgan Goodman; one brother, Raymond (Sue) Hartline of Alto Pass; nephew, Russ (Mary Jo) Hartline of Alto Pass; four nieces, Debbie Vowles of Valparaiso, IN, Roxanne (Delbert) Smallwood of Hobart, IN, Rosalind Sedaleck of Carbondale, Rhonda (John) McGuire of Valparaiso, IN; many great nieces and nephews; other relatives and friends. She was preceded in death by her parents; son, Donald Goodman; sister, Mildred Vowles; and infant sister, Mary June Hartline.
Helen was a true homemaker, she loved taking care of others and caring for her grandchildren. She enjoyed tending to her vegetable and flower gardens. She was a member of the First Baptist Church in Alto Pass and attended Big Creek Church in recent years. She will be deeply missed by her family.
Funeral services will be held privately for her family at the Rendleman & Hileman Funeral Home. Interment will be in the Alto Pass Cemetery. Memorial contributions may be made to the Big Creek Baptist Church. Envelopes will be available at the funeral home.