Posts Tagged 'Brenda Stokes, Brenda Stokes obituary, Funeralworks Obituary'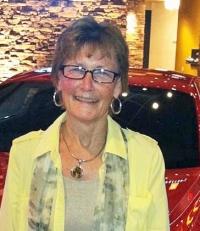 Brenda Stokes, age 65 of Anna, died Saturday, March 16, 2019 at her home. She was born March 21, 1953 in Anna, the daughter of Glenn Merle and Dorothy Dane (Pratt) Tygett. She married Darrell Stokes on November 8, 1974 in Anna.
Brenda is survived by her loving husband, Darrell Stokes; three sons, Brandon (Amy) Stokes, Justin and Nathan Stokes all of Anna; two grandchildren, Alex and Abby; brother, Jimmie Tygett of Lafayette, LA; other relatives and friends. She was preceded in death by her parents.
Brenda was a member of the First Christian Church. She enjoyed working in her yard with her flowers and spending time with her family and her girlfriends. Brenda and her husband Darrell owned and operated the Ponderosa in Anna for ten years. She later went to work for Modern Woodmen of America where she has been an agent for the last twenty years. Brenda was a wonderful person and will be truly missed by everyone who knew her.
Funeral services will be at 10:00 a.m. Tuesday, March 19, 2019 in the Rendleman & Hileman Funeral Home in Jonesboro with Bill Littrell officiating. Interment will be in the Anna Cemetery. Friends may call from 5 to 7:00 p.m. Monday, March 18, 2019 in the Rendleman & Hileman Funeral Home in Jonesboro. Memorial contributions may be made to Hospice of Southern Illinois. Envelopes will be available at the funeral home.