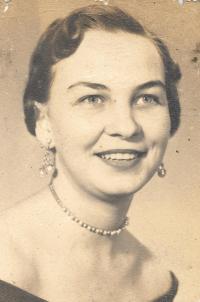 Mary Helen Moore, age 83 of Arcadia, FL, formerly of Jonesboro, died suddenly Friday, February 7, 2020 in the DeSoto Memorial Hospital in Arcadia, FL. She was born September 29, 1936 in Jonesboro, the daughter of John Henry and Freddie Kathryn (Stroehlein) Whiting. She married James L. Moore on October 21, 1956 in Cobden. Together they shared sixty three years of marriage.
Mary Helen is survived by her devoted husband, James L. Moore of Arcadia, FL; son, Jerry Lee (Christie) Moore of Bradenton, FL; beloved dog, Tinker Bell; granddaughter, Beth Ann Myers of Anna; two great-grandchildren, Chad Wayne Myers Jr. and Olivia Ann Myers both of Anna; sister, Kay (Roger) Peterman of Greenwood, IN; sister in law, Alsy Singleton of Poplar Bluff, MO; brother in law, Charles (Patti) Moore of Sikeston, MO; nieces, Kim Singleton of Louisville, KY, Tonya Monnier of Indianapolis, IN; nephews, Keith Peterman of Louisville, KY, Aaron Moore of Cape Girardeau, MO; several great-nieces and nephews; cousins, Jimmy (Sue) Whiting of Seminole, FL, John Stroehlein and family of Houston, TX, Pam Strohmeier and family of Indian Rocks Beach, FL, Greg Whiting and family of Atlanta, GA, Randy Whiting and family of St. Petersburg, FL; other relatives and many friends. She was preceded in death by her father, John Henry Whiting; mother, Freddie Kathryn Stacy; step father, Bob Stacy, and nephew, Tim Singleton.
Mary Helen helped organize the Welcome Wagon in Union County after she and her husband James moved to Jonesboro in 1968. In the early years of her career she worked as a bookkeeper for her father at Union Tire Service and the Anna State Bank. She also worked as a beautician with her mother at her beauty shop in Cobden. After moving to Nashville, TN years later she worked for Opryland Hotel and later retired from Camping World as a bookkeeper.
Mary Helen enjoyed traveling with her husband James, together they visited many different places throughout the country. They were always telling stories and making new friends where ever they went. She was a talented painter, and decorator. Mary Helen was hard working, working side by side with James on the countless remodeling and home projects they did together over the years.
Visitation for Mary Helen Moore will be from 12:00 noon until 2:00 p.m. Sunday, February 16, 2020 in the Rendleman & Hileman Funeral Home in Jonesboro. Interment will be immediately following in the Jonesboro Cemetery.