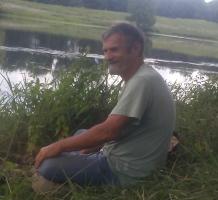 Gary W. Davis, Sr., 66 of Jonesboro, died Saturday, June 6, 2020 at St. Francis Medical Center in Cape Girardeau.
He was born on April 22, 1954 in Cairo, Illinois to Warren and Edna May (Reed) Davis. He married Cora Burton.
Gary is survived by his wife Cora; his children, Jessica Smith, Billy, Allan, Jerry and Ashley Davis; numerous grandchildren and great grandchildren; his siblings, Annie Patterson, Pat Diaz, Birdie Gibson and Carolyn Foster; other relatives and friends.
He was preceded in death by 1 son, Gary Wayne Davis, Jr.: 3 brothers, Albert, Josh and Robert Davis and 1 sister, Alice Davis.
Gary loved spending time with his family and friends, he was always the life of the party. He enjoyed fishing, camping and mushroom hunting.
Private graveside services for Gary W. Davis, Sr., will be held at St. Johns Cemetery in Dongola.
Rendleman and Hileman Funeral Home in Jonesboro is in charge of arrangements.