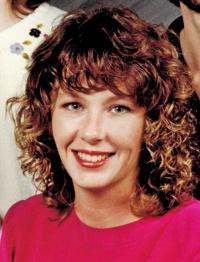 Michelle Marie Lingle, age 53 of Cobden, formerly of Anna, died Tuesday, July 28, 2020 in Anna. She was born June 21, 1967 in Anna, the daughter of Michael Raymond and Donna Kay (Shadowens) Haynes.
Michelle is survived by her children, Ashlee Nicole Lingle (Jacquan Fuller) of Pinellas Park, FL, Joshua Parker Lingle (Jala Wilson) of Anna, and Bryce Matthew Lingle of Anna; one grandchild on the way, Jezra Parker Lingle; mother, Donna Kay Hunt of Anna; husband, Robbie Lingle of Anna; brother, Shawn Eugene (Christina) Haynes of Anna; two aunts, Dee Dillion of Anna, Candy Huckleberry of Alhambra; nephew, Gabriel Haynes of Anna; three nieces, Sydni Haynes of Dongola, Mckenzie and Mckenna Haynes both of Anna; dear friends, Jim, Michelle, and CeCe; her beloved dog, MoJo; other relatives and many friends. She was preceded in death by her father, Michael Raymond Haynes; grandmother, Nellie Shadowens.
Michelle worked many years as a registered nurse and director of nursing at various facilities. She loved her family, and will be remembered for her nurturing soul. Michelle was a great cook and enjoyed bird watching and frogs.
A celebration of life will be from 5:00 pm to 7:00 pm on Wednesday, August 5, 2020 at the Harvest Church in Anna.